Case Study: Gateway with Gatehouse Bank
How we elevated Gatehouse Bank's employer brand to encourage applications from disadvantaged school-leavers.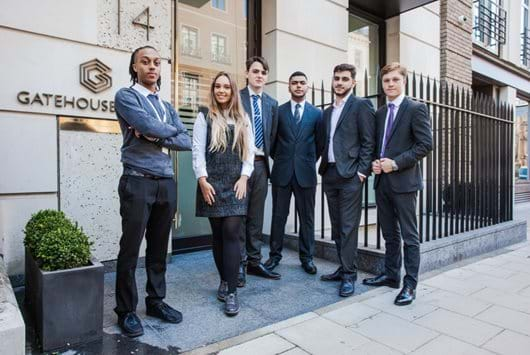 THE CHALLENGE
An employer that wants to find hard-to-reach talent.
Fast-growing challenger bank Gatehouse were keen to make apprenticeships a key part of their talent strategy. Haven't never previously explored early careers, they needed full support in building their scheme from the ground up and managing it end-to-end.
As a Shariah-compliant lender it was important to them to give back to their communities. They wanted to invest in talent from diverse backgrounds local to their offices in London and Milton Keynes and build their employer brand through a bespoke branded recruitment scheme.
Given the relatively small size of their business (around 100 people) it was crucial to make the right hiring decisions and find young talent that could add value quickly.
OUR APPROACH
Bringing ambitious, smart young people into business while advancing social mobility.
We designed and managed Gateway, a bespoke apprenticeship programme enabling Gatehouse Bank to attract and recruit more socially diverse talent. 
We began by running pre-assessment sessions for over 300 young people in 15 London schools, focused on building the Bank's employer brand while developing their understanding of Islamic finance and testing for key skills.
Then we encouraged those with the greatest potential to apply to the scheme, resulting in 100 applications from hard-to-reach talent. 
We invited 23 students to attend a one-day assessment centre, selecting 11 of those to be matched with a Gatehouse hiring manager for weekly one-to-one mentoring to develop their understanding of the business, the wider industry, and apprenticeship roles on offer.
Finally, we helped Gatehouse select six apprentices to hire across a number of roles within the organisation, including marketing, PR, specialist finance, risk and treasury. All six apprentices are progressing well and come highly commended by colleagues across the Bank.
As this was Gatehouse Bank's first apprenticeship programme, we also helped their team prepare to welcome their new recruits with both apprentice-training and management-training plans.
WHAT THE EMPLOYER SAYS
"Visionpath's expertise was key to developing our offering from grassroots to a fully participative learning scheme. Their insights enabled us to make informed choices about programme structure and ready our managers for apprentices taking the first step in their careers."
SHARRON HARVEY – HEAD OF HR, GATEHOUSE BANK
THE RESULTS
Engaged over 600 young people

Received over 200 applications

Hired 9 apprentices in London and Milton Keynes

91% retention rate after 6 months
WHAT THE APPRENTICES SAY
"Since starting the apprenticeship I've developed confidence with regards to adapting to change and being proactive to business objectives… I've learned to understand the importance of adding value and building relationships."
RIAZ MOHAMED – RISK & COMPLIANCE ASSISTANT, GATEWAY 2018 ALUMNI
Powerful connections that make a lasting social impact.
Find out how we create collaborations that add value for employers, schools and students.
GET IN TOUCH
Case Studies
The Mindshare Academy

How we reimagined a leading media agency's early careers as…

Continue Reading

PB Inspires with Price Bailey

How we helped Price Bailey empower disadvantaged school-leavers, while engaging…

Continue Reading

Gamechangers with Hitachi Capital

How we designed and managed an award-winning, end-to-end solution to…

Continue Reading